Ewa Chruściel
Bibliography
Furkot, Biblioteka Studium, Kraków, 2003

W pismach literackich:
Nowa Okolica P, Odra, Tekstualia, Studium, Zeszyty Literackie, Pracownia, Topos -
Colorado Review, Lana Turner, hot metal bridge, Process, Boston Review (lipiec 2007), Poetry Wales, Canary, American Letters and Commentary, Mandorla, Rhino, Spoon River Review, Pebble Lake Review, Xcp: Cross Cultural Poetics, Monitor - USA
IL Giornale, ClanDestino, - Włochy

Wybrane przekłady:
Proza
W Zielonej Sowie: I.B Singer, Urząd Mojego Ojca – Kolejne Opowieści, 2005 Jean Webster. Niesforna Patty z Maria Porebska, 2005, Joseph Conrad. Smuga Cienia, 2001, Jack London, Biały Kieł Kraków 2000.
Poezja
(polski-ang)
Agnieszka Kuciak, Anna Piwkowska -- Six Polish Poets, 2008
Milosz Biedrzycki, Agnieszka Kuciak Lyric Poetry Review 8 (Summer 2005)
Miłosz Biedrzycki, Marek Wojdyło Carnivorous Boy and Carnivorous Bird: Poetry from Poland (a bilingual anthology of recent Polish poetry in English translation, representing 24 poets)
Miłosz Biedrzycki Chicago Review 3 & 4 [vol 46] (2000)
Marcin Świetlicki Przekładaniec 3 (1997)

Naukowe:
Anti-closural modes of postmodern poetics. International Journal of Humanities
Metonymic Compression and Mirror Blends in Lyn Hejinian's My Life, Cognition in Language Volume in Honour of Prof. E. Tabakowska
W Poszukiwaniu Straconych Metafor. Polskie Przeklady Sonetu; Klamliwe Poslanie. Lektury Sonetow Szekspira. Redakcja. M. Gibinska, A. Pokojska. Krakow: Universitas, 2005.
Container Metaphors in Emily Dickinson's Poetry; Przekładaniec 3 (1997).
Emily Dickinson Lexicon, Ed. Cynthia L. Hallen. Westport, CT: Greenwood. In Progress.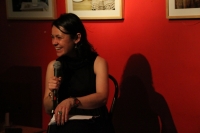 Lokator, wieczor 24 czerwca, 09.
fot.
http://fraza.univ.rzeszow.pl/biblioteka_05-11.php http://www.emergencypress.org/contest.html http://www.litmuspress.org/
http://bostonreview.net/BR32.4/article_graham.php http://hotmetalbridge.org/?page_id=307 http://sawbuckpoems.blogspot.com/2008/11/ewa-chrusciel.html http://unionsquarepoetryseries.blogspot.com/2007/04/ewa-chrusciel-drew-gardner-after.html http://www.xcp.bfn.org/chrusciel.html http://www.echrusciel.net/
Hosted by

Fundacja Literatury w Internecie