Ewa Chru¶ciel
In 2003 Studium published her first book in Polish. Her second book in Polish is forthcoming in 2009. Her manuscript in English was a finalist in Alice James Poetry Contest and in Dana Awards. Her poems have appeared in numerous journals such as Odra, Zeszyty literackie, Studium, Nowa Okolica Poetow in Poland; Poetry Wales and Rzeczpospospolita Kulturalna in England; Il Giornale in Italy. Her poetry was also featured in Boston Review (poet's sampler), Process, Lana Turner, hot metal bridge, Mandorla, Canary, Rhino, American Letters and Commentary, Colorado Review etc. Her translations of poetry appeared in numerous journals and two anthologies of Polish poetry in English translations: Carnivorous Boy, Carnivorous Bird and Six Polish Poets. She is a Prof. of Humanities at Colby-Sawyer College.
***S± ludzie o tak pełnym życiu
S± ludzie o tak pełnym życiu
Rosn± samotnie
I druga połowa byłaby stężeniem
mocy aż do eksplozji
To ludzie niepełni dobieraj± się w pary
Maj± serca proste, ubogie, pochylone
w zależno¶ć

Straszna jest pełnia
Wymaga pojedynczo¶ci
Author's log
26-06-09 21:59
koszaɫki opaɫki. facecje ɫgarskie. ɫajno marcepanowe. to jakby szyszkę poɫkn±ć. aż trójpot będzie szedɫ. z sylab± na sɫońce. kiedy kawki ¶pi±. naparɫa się i¶ć na odpust. gęsi kaczorami być nie mog±. do wolej się z ni± namówiɫa. ospaɫa od cudzego spania, jak nie pierdnie za co nagrody wygrywa, pierdelowe powrósɫa. za mɫodu wronami karmiona. musi pić kto pragnie wszystko zrobi i do gómna zwiezie
08-06-09 10:31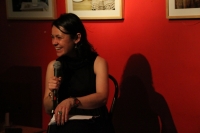 Lokator, wieczor 24 czerwca, 09.
http://fraza.univ.rzeszow.pl/biblioteka_05-11.php

http://www.emergencypress.org/contest.html

http://www.litmuspress.org/
Hosted by

Fundacja Literatury w Internecie