Ewa Chru¶ciel
Zadebiutowała tomikiem wierszy Furkot w 2003 w Studium. Jej drugi tomik ukazał się jesieni± 2009 roku w Bibliotece Frazy. Jej maszynopis po ang. wygrał w międzynarodowym konkursie Emergency Press i ukaze się w grudniu 2010. Jej wiersze ukazaly się w Odrze, Nowej Okolicy Poetów, Tekstualiach, Studium, Toposie, Pracowni, Zeszytach Literackich. Jej wiersze po angielsku zaprezentowane były na łamach lipcowego wydania Boston Review (2007) oraz w Colorado Review, Lana Turner, Process,Canary, Squaw Valley Review, American Letters and Commentary, Mandorla, Rhino, Spoon River Poetry, Streetnotes, Pebble Lake Review w Stanach; Poetry Wales w Walii, Il clanDestino oraz Il Giornale we Włoszech. Obecnie wykłada literaturę, poezję i pisanie twórcze w Colby-Sawyer w Stanach Zjednoczonych i zajmuje się tlumaczeniami poezji.
***S± ludzie o tak pełnym życiu
S± ludzie o tak pełnym życiu
Rosn± samotnie
I druga połowa byłaby stężeniem
mocy aż do eksplozji
To ludzie niepełni dobieraj± się w pary
Maj± serca proste, ubogie, pochylone
w zależno¶ć

Straszna jest pełnia
Wymaga pojedynczo¶ci
Dziennik
26-06-09 21:59
koszaɫki opaɫki. facecje ɫgarskie. ɫajno marcepanowe. to jakby szyszkę poɫkn±ć. aż trójpot będzie szedɫ. z sylab± na sɫońce. kiedy kawki ¶pi±. naparɫa się i¶ć na odpust. gęsi kaczorami być nie mog±. do wolej się z ni± namówiɫa. ospaɫa od cudzego spania, jak nie pierdnie za co nagrody wygrywa, pierdelowe powrósɫa. za mɫodu wronami karmiona. musi pić kto pragnie wszystko zrobi i do gómna zwiezie
08-06-09 10:31
What a beautiful Yinguo owl which nests on Ginkgo Biloba trees perched briskly in my mailbox! Who could lacerate it? Not even a fierce editor like me! After all, the editors are human species who show themselves to be human, as Higginson once wrote in Atlantic Monthly. It is well enough to remember this fact, when you approach Me. I am not a gloomy despot, no Nemesis or Rhadamanthus (...) draw near me, therefore, with soft approaches & mild persuasions. Meanwhile, on a more personal note, I'm terribly jealous because I know that the fact that I haven't heard from you in months means that you have no need of my odd impossible companionship because you have two or three new boys. Either that or you fought a duel with Kasia and you lost. Sorry if that's the case. Please let me know where to send flowers. P.S. 1. I had a sexy dream about you today. In this dream you were not even afraid of me. The details are my own. P.S. 2. I don't know what else to say! Perhaps I would gain more respect I've long deserved and your timely response, if I were to have a short essay come out in Playboy. Yes, Playboy. Snort at my dreams if you like, but I if I did get published there, I may receive an invitation to the Playboy mansion. I would be sitting with the bunnies while you shiver in the New England snow. P.S. 3. Plus, the Playboy credentials would make me very expensive as a campus visitor now. It would make me quite chic. How do you like that?
08-06-09 10:27
I was away having a bongo bliss on the snowy slopes; watching the white albatrosses fall from the sky; contemplating the nature of snow dunes and the waltz of water flowers. I had a dream of Chinese Circus, Ricotta Pie, and Columbus Manatee Mermaid. I was exploring the land of Genghis Khan; the most ruthlessly violent, mercilessly cunning monsters united by drinking the blood from their horses' necks. I was contemplating the "burning bushes," "doves," "manna,"...
więcej >>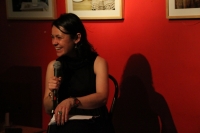 Lokator, wieczor 24 czerwca, 09.
http://fraza.univ.rzeszow.pl/biblioteka_05-11.php

http://www.emergencypress.org/contest.html

http://www.litmuspress.org/
Hosted by

Fundacja Literatury w Internecie